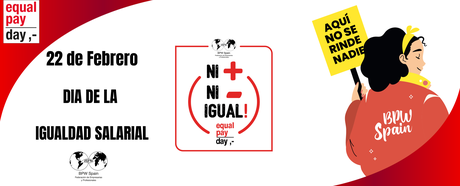 El 22 de febrero se celebrá el Día de la Igualdad Salarial en España. BPW Spain organiza una campaña nacional contra la lucha de la Brecha Salarial.
The struggle to close the gender pay gap is worldwide and ongoing. At BPW Spain we aim to achieve fair and equal pay for all women. Our federation has led this fight and has been able to move the needle when it comes to equal pay. 
Every year we have taken the streets and paired up with our local and national representatives to raise awareness to this issue.  We have made public demands to close the gender pay gap through our social media channels.
In Spain we celebrate Equal Pay Day on February 22. This year, due to the current covid19 crisis, we will host a virtual campaign using the following hashtags: #epdbpw #nimasnimenos (not more nor less). 
This year we are asking women to record a short video (15-20 seconds) with a supportive message for this struggle for us to post on our social media and website.