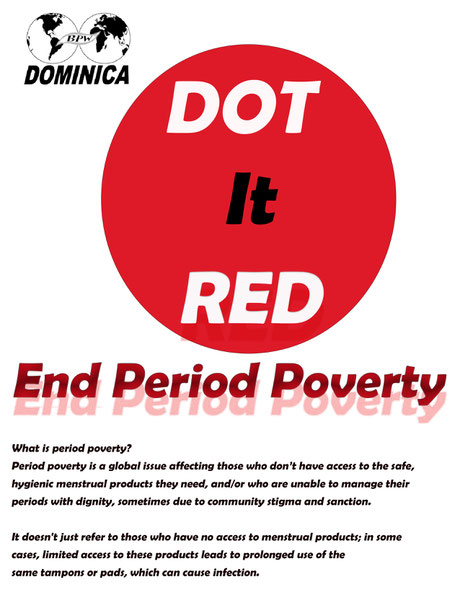 This project seeks to engage the entire county on the education of Period, ending the stigma of having a period and providing pads to schools.
Educational programs at schools, on having a period, why persons must not look down on someone with their period, reducing and eliminating the stigma on having a period. Getting the schools, communities, government, businesses, and country's all involved in End Period Poverty and raising awareness on the subject matter.
There will be a Red Dot day where all schools will wear a white t-shirt with a red dot on it, members of service clubs will also join us and wear the shirt and well as some businesses and government agencies, (New action through collaboration). Also focusing on the SDG goals 3,4,5 10,17.
There will be competition among the high schools, educational material being developed, videos, slogans such as (STOP, Having one Period is not a sin, it births LIFE). We have so far partnered with other NGOs, Businesses, the government office of Education, Gender affairs and health, and will be holding talks within various communities.
Message
BPW Dominica stands with our young women in fighting the stigma on Period and has mandated itself to help build educational programs that will eliminate the stigma.
We seek everyone support for this project as we Stamp out Period Poverty and build acceptance.
'STOP, Getting one period is not a sin, it births LIFE." this will be written on all our shirt for this project.
BPW Club Dominica
Dominica, North America and the Caribbean
Start of Project: 2022
Duration: Permanent
Registration: September 5, 2022
Partners
The Government of Dominica
Schools
Businesses (20)
Other organizations such as:
JCI Dominica
Planned Parenthood
Dominica Council of Women
Dominica Cancer Association
Youth Division 
BPW Topics
BPW Topics 6, 10, 12
---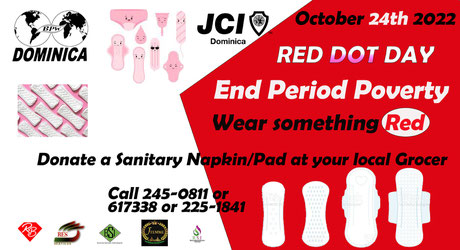 ---