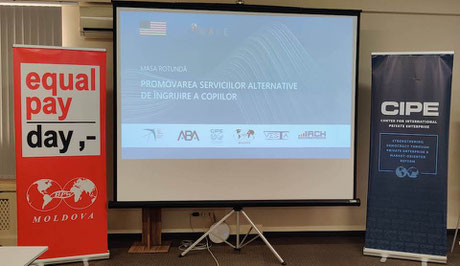 About benefits of creating alternative child care services and how their lack is a barrier for integration of women in the labor field and business.
During the month of December, 2022 under the auspices of the Alliance for the Economic Empowerment of Women from Republic of Moldova in partnership with Association of Professional and Business Women from Moldova, were organized the round tables with the generic "Promotion of alternative childcare services", which they took place in different region of Moldova.
In the round tables were participated the representatives of the UN Women, UNFPA, UNICEF, Local Public Administration, the representatives of the Parliament, the Government, of the business, etc.
This activity is part of the "Reducing Barriers to Women's Economic Empowerment" project, implemented by the (WAGE) consortium, the International Center for Private Entrepreneurship (CIPE) and the (ABA ROLI), and is funded by the Secretariat of the US State Department's Office on (S/GWI).
BPW Club Moldova
Moldova, Europe
Start of Project: December 2022
Duration: repeated event
Registration: March 5, 2023
Partners
UN Women, UNFPA,Women and Girls Empowered (WAGE), UNICEF, International Center for Private Entrepreneurship (CIPE), the American Bar Association Rule of Law Initiative (ABA ROLI), Local Public Administration, the representatives of the Parliament, the Government
BPW Topics
BPW Topics 4, 10, 11