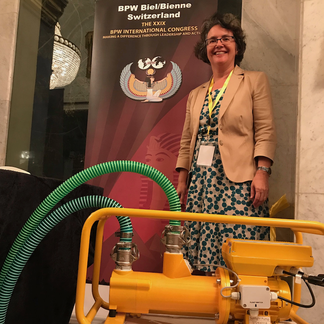 Solar Water Pump
Jeanneret Vezzini, Karin - Switzerland
UN SDG
7 Affordable Clean Energy
BPW Topic
5 Environment, Agriculture, Nature, Water
Project
The company ennos ag develops and distributes the sunlight pump, a portable solar water pump for irrigation and domestic water supply in developing countries. The technology combines income, productivity and labor-saving benefits and will be made accessible in several countries through the establishment of a supply chain and payment options.
Within the next six years, ennos wants to scale-up the production and marketing capacity. The vision of ennos is to supply a high quality product and make it accessible and affordable for BOP clients. Beyond that, ennos wants to offer extensive support and after sales services to the customers to guarantee a productive use of the technology for many years.
To reach this goal, BPW International can be a very important player, in the sense to connect the company with potential partners in different African countries.
Documents
New documents November 2017
website & Social Media
Project Leader
Karin Jeanneret Vezzini, born in Switzerland (1965), married, 2 children. Attorney-at-law with own law office (Jeanneret Law) and since 2016, CEO of ennos ag, a Swiss company who designed a highly efficient solar water pump for smallholder farmers (www.ennos.ch). Founder member of BPW Biel-Bienne (1996), Switzerland. President of BPW Biel-Bienne 2014-2018.
Languages: German, English, French
---
High-ranking visit from thailand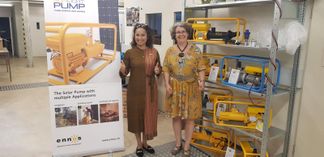 High-ranking visit to BPW Karin Jeanneret and her Member Project Solar Water Pump
After the Global Summit of Women in Basel, Chularat Israngkool Na Ayutthaya took the opportunity to meet the successful Project Leader Karin Jeanneret in Biel.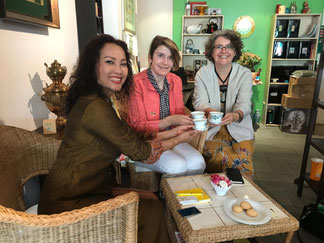 Also present was Myriam Heidelberger (middle), President of the BPW Club Biel-Bienne and new member of the BPW Switzerland Board of Directors.
A lot of BPW competence met there, because Karin is also past president of Club Biel-Bienne. The visitor Toy is Vice President of BPW Bangkok (Thailand) and ASEAN Sub-Regional Coordinator of BPW International.
---
sunlight pump Simusolar Tanzania
Together we are stronger!
The sunlight pump is brought to you by our partners
ennos has established trustful partnerships with distributors in Africa. Together, we develop sustainable business models that allow us to bring innovative solar pumping solutions and high quality services to smallholder farmers. 
In Tanzania, we work with Simusolar Ltd. – a pioneer in the field of solar energy. Simusolar provides and finances accessible, affordable, and energy-efficient equipment designed for off-grid businesses. Their goal is to enable rural smallholder farmers to acquire solar technologies – such as the sunlight pump – and to improve their livelihoods. 
Learn more about the work of Simusolar in the video above and enjoy the beautiful pictures from rural Tanzania!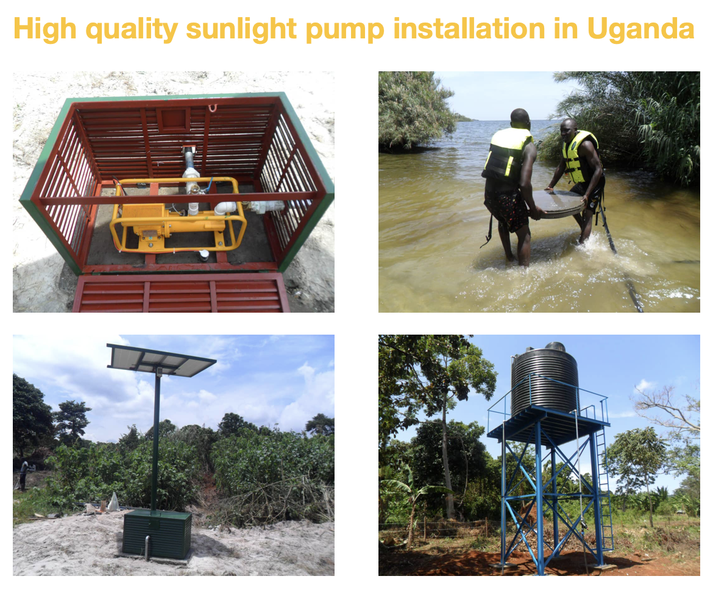 The pictures above show an installation at Bubwa village, Buikwe District, Uganda. At the shore of Lake Victoria, our partner Innovation Africa Ltd. installed a sunlight pump delivering water over a horizontal distance of 250 meters and a total lift of 20 meters into a water tank. 
The water is used to irrigate 5 acres of land. The farmers report that the pump runs from sunrise to sunset without interruption on sunny days and delivers enough water to cover their needs. 
We are impressed with the quality of the structures and glad to hear that the sunlight pump users are extremely satisfied with the technology!
You want to become a distribution partner as well? You are interested in buying a sunlight pump? You have a question? Get in touch – we are happy to assist!
Warm regards, The ennos Team
---
Solar water Pump in action
---
Solar Water Pump at BPW International Congress in Cairo, Oct 2017
pilot team member on tour at cairo congress
Visiting Karin Jeanneret, BPW Biel / Switzerland and her booth. 
Karin is presenting her Member Project "Solar Water Pump". 
On the foto Karin (sitting), from left to right: Vroni Rohrbach, Daniela Rigassi, BPW Switzerland; Claire-Marie Kabore, President BPW Ouagadougou; Dr. Antoinette Rüegg, Past President BPW International
Read more about the project on https://www.bpw-memberprojects-experts.org/solarwaterpump/