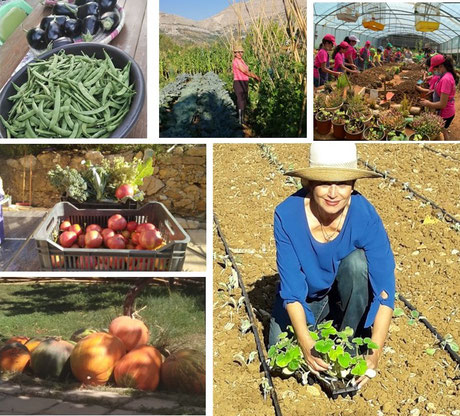 Project Goal
The project seeks to implant and maintain a permanent Kitchen Gardening. 'Provide your own food by working the land.'
Description
BPW Lebanon is in the 2021-2024 International Standing Committee of Agriculture with the Project Kitchen Gardening
We meet regularly to implement a permanent management on how to plant seasonal vegetables, fruits and horticulture. The project seeks to implant and maintain a permanent Kitchen Gardening. BPW Lebanon SC of Agriculture objective is to gather enough subsidies to encourage other women to plant on a small scale by doing that protecting the environment.
Message
We hope that many BPW Clubs and Federations will join, reproduce and implement Kitchen Gardening.
Project of the
BPW International SC Agriculture 2021-2024
Chair: Cristina Gorajski
---
BPW Lebanon
Lebanon, Asia Pacific
Start of Project 
2021
Duration 
more than 1 year
Registration 
October 26, 2022
---
BPW Topics
BPW Topics 4, 5, 9
Testimonials
---
Kitchen Gardening Project
Testimonial #1 - Nina Sfeir, BPW Lebanon
I started my gardening as a hobby at first, in front of my house in Faraya that is 1200 m above sea level. I decided to increase the planting space when I started to pay attention to how healthy the organic plantation is when planted without pesticides and chemicals. Gardening can cultivate feelings of empowerment, calm the mind, and reduce stress. Gardening is an activity that is quite physical. It includes weedying, planting, watering, mulching, trellising, and harvesting. To start, I choose the right location for the garden with plenty of sun, space, and water source. The best month is April. I select all the veggies that I need and are fast to grow. I prepare the soil by removing all the weeds and unwanted plants, then plant the seeds with a space of 3 to 6 feet apart. We add nutrients while watering with the help of a few workers. Growing my own food is the best way to save money, share with parents, family, friends, and neighbors and enjoy fresh products at the table. My gardening allows me to do "Mouneh" for the winter. Gardening is good for teaching children the process of planting, growing, and harvesting food. During the summer champ classes they are trained to work with planting directly in the soil. It is a way to orient them to Agriculture and the benefits of a healthy life.
October 2022
---
Kitchen Gardening Project
Testimonial #2 - Marguerite Sayah, BPW Lebanon
I live in a village. We, as family, are used to plant vegetables and fruit trees and eat from our garden; we do like gardening. For me, gardening became a hobby that helps me to rest in addition to the fact that it assures us fresh and healthy vegetables and fruits grown without chemical products. Of course, difficult, and tiring work, such as plowing the land and pruning trees, requires specialized workers. What I like to do in agriculture is to plant and irrigate vegetables, especially picking the product of vegetables and fruits, and using them in cooking and making jams and sweets.
Working in agriculture is physically tiring, but it is very comfortable psychologically, as we see vegetables growing and fruits ripening and our work bears fruit and teaches us that as much as you give the land, it gives you; there is no room for loss with it. The bulk of the trees were planted about 15 years ago and still give in abundance and include the various species that live in this area. As for vegetables, they are grown all year round, In the winter inside the nylon tent and outside in the rest of the seasons.
October 2022
---
Kitchen Gardening Project
Testimonial #3 - Alia Abbas, BPW Lebanon
I feel happy when I grow my own veggies and fruits because I know they are clean and healthier. Surely when I grow my own plants, I feel proud that my piece of land is giving me good products. Since I do not trust the cleanliness of the irrigating water therefore, I prefer to do my own gardening and planting. I love to eat my own garden products because they taste a lot better than the market ones, they are watered with clean water, and I took good care of them.
The economy crisis in Lebanon made purchase of food very expensive so it is better to look at home gardening..
I plant in two seasons in summer and in winter.  I start preparing the soil for planting now for winter yield and for summer I start in spring. Some idea of my cultivation: parsley, mint spring, onion radish, cucumber, zucchini, eggplants, and peppers. For this winter I planted cauliflower, cabbage spring, onion, parsley, mint silver beet (سلق    ) spinach, radish, lettuce, coriander (كزبرة) ,onion and garlic
For summer I plant peas, soybeans, green beans, okr (بامية    ) ) eggplants, peppers, tomatoes and cherry tomatoes, cucumbers, zucchini, watermelon cantaloup  (شمام). Also, we grow trees for seasonal yields like olive, walnuts, grapes, pomegranate (رمان), berries, cherries, pears, lemon, oranges, grapefruit, apple and almond. In some areas we grow carob to make syrup (خروب     ).
December 2022
---
Kitchen Gardening Project 
Testimonial #4 - Noreen Abdullah, BPW Malaysia
"I would like to share our activity on Kitchen Gardening (funds from our 10K grant) done with the indigenous community school over the mountains with a long, narrow and winding road." 

Reported by Noreen Abdulla, BPW Malaysia, Member of SC Agriculture, December 2022