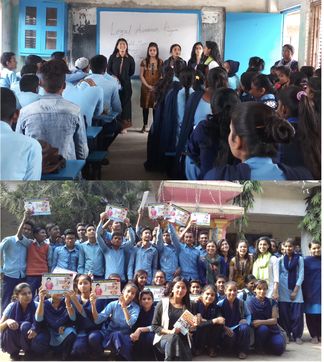 Invoking Sustainable Development Goal 16, like a dove, we go to communities as messengers of peace, justice, equality, and humanity, with the goal of raising awareness and reducing violence against women and children.
Description
Sexual harassment, rape, child marriage, dowry and domestic violence terrorize our society as well as the global world. These issues are hushed up or swept under the rugs. Challenging the status quo, we have embarked upon a journey of Law in Action, stirring up healthy intellectual conversations. We have chosen to speak, rather than remaining silent spectators of social injustice. We go to communities and stimulate conversations on an inexhaustible list of sensitive topics such as domestic violence, child marriage, dowry, sexual harassment, rape, and so on. We sensitize participants about the legal provisions that govern these issues. We inform them about their rights as well as corresponding duties. We raise awareness and carry out conscious steps to reduce violence against women and children. We believe in empowering and equipping children and young people with the skills to protect themselves when confronted with violence. We dream to bridge the gap between Law and Society. 
Message
"Injustice anywhere is a threat to justice everywhere"-Martin Luther King "If you want to go fast, go alone; if you want to go far, go together"- African Proverb. We, the Young BPW sisters from Nepal want to go far and wide with our initiative, united together in common bond of sisterhood. Let's realize sustainable development goals together!!
BPW Nepal Federation
Nepal - Region Asia Pacific
Start of Project: 11th May, 2018