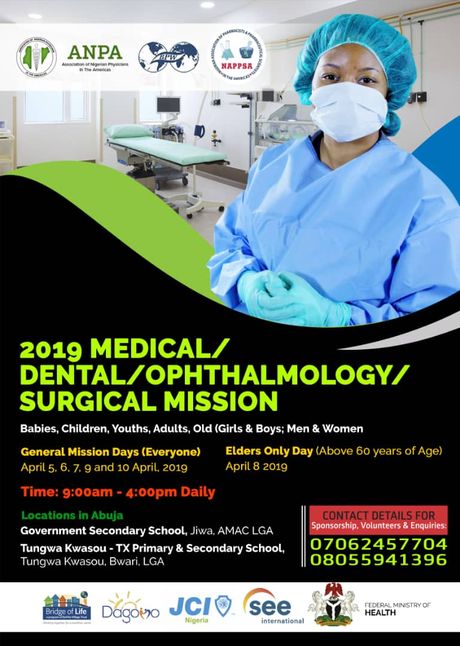 To provide free Medical Services to the underserved in Jiwa and Tungwa Kwasou suburbs of Federal Capital Territory of Abuja in Nigeria for 7 days : 5th to 11th April, 2019. Free Medical, Dental, Ophthalmology and Surgical services were provided and free medications were given to the patients.
Description
Association of Nigeria Physicians in the Americas (ANPA) in the past 2 years have come to Nigeria for Medical Missions. This year 2019, BPW Nigeria collaborated with ANPA to carry out the largest Medical Mission ANPA has had so far. About 80 Medical practitioners from USA and their partners Nigerian Association of Pharmacists and Pharmaceutical Scientists (NAPPSA), and Bridge of Life (BOL) volunteered and came for this Mission. The Medical Team consisting of family medicine, internal medicine (nephrology, cardiology, rheumatology, geriatric, gastroenterology, psychiatry), pediatrics, physical medicine pain specialist, pharmacists, nurses, educators, BOL volunteers with their Electronic Medical Records (EMR), attended to a total of about 4,000 patients. 90 Surgeries were carried out. Over 800 glasses were dispensed, with the Optometry team support. Free training of the Help Babies Breathe (HBB) Program, to improve infant mortality, was given to 120 Nigerian medical personnel. 
The Project started 6 weeks before the 5th April, 2019 start date with mobilization and Pre-screening of patients that will require surgical procedures. This was carried out in partnership with the 2 Local Government Areas where the Mission will take place by the doctors in the Primary Health Care Centers.
Partners
Association of Nigerian Physicians in the Americas (ANPA) Nigerian Association of Pharmacists and Pharmaceutical Scientists in the Americas (NAPPSA) Bridge of Life (BOL) Junior Chambers International (JCI) - Nigeria partner DAGOMO - Nigeria partner