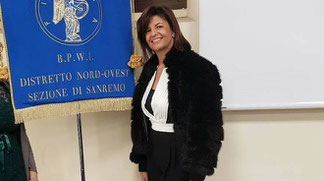 A reminder to the World Day "End Violence against Women"
Donne vittime di violenza, Fidapa Sanremo portavoce del progetto internazionale "Focus sull'autore degli abusi"
Women victims of violence, Fidapa Sanremo spokesperson for the international project "Focus on the perpetrator of abuse".
---
English Translation of the Report of November 24, 2020 on riviera24.it:
Sanremo. "Focus on the author of abuses and violence": this is the title of the international project of Fidapa BPW of which the section of Sanremo is the spokesperson on the occasion of the World Day against Violence against Women that will take place tomorrow, Wednesday, November 25. 
"Violence against women is an unacceptable and complex phenomenon," explains Beatrice Vanzo, past president of Fidapa Sanremo and current member of the BPW International Project Pilot. "While it is essential to intervene to support victims, from a prevention perspective it is also necessary to deal with those who commit the abuse. The punishment is not enough to stop acts of violence with concreteness. As a Federation, we aim to create centers within the public structure for the treatment of those men who have committed the crime of violence. The aim is to provide them with a path of change that increases their capacity for introspection and their awareness of violence itself".
Among the fundamental lines of the project, there is the request to remove the abuser from the home and not the other way around. "We need to reverse the trend - emphasizes Vanzo - Until now the woman, often with minors, has been forced to leave her home to go to sheltered and welcoming facilities that, however, in many cases have had the negative result of aggravating the psychological, social and emotional distress as foreign environments".
"We are aware that achieving certain changes involves great difficulties, but we are also convinced that together we can succeed. Just look at those regions and cities that have already worked to treat the perpetrators of violence and abuse differently than in the past and are achieving good results. Obviously, the change cannot be separated from a strengthening of relations between public and private contacts, both on the territory and at the national level. Everyone is talking about the fight against violence against women, but we need to take concrete action. Trying to deal with the problem from a new point of view can make the difference," concludes Beatrice Vanzo.
Translated with www.DeepL.com/Translator (free version)