River of Hope
Doron, Claudia - Switzerland
UN SDG
1 to 12, 15 to 17
BPW Topic
4 Peace, Poverty, Violence
Project
"When a dream comes true" - I founded together with my husband and father the small non- profit association "River of Hope" registered in Switzerland. We kicked-off the project in Congo in 2010 without a cent and 2 suitcases filled with 46kg of football material. In December 2012, we purchased in Selo, Kasangulu, Bas Congo, in the outskirts of Kinshasa, 4ha land. In Spring 2013 we could straight away start the construction of the center" Talal Mosika " thanks to all the sponsors and foundations. It is hard to believe that in fall 2015, just after 2 1⁄2 years we inaugurated our 7th building & 2 converted containers. Of course we still have a lot planned but now the infrastructure is such that the program can start holistically. With the aim of stimulating the local economy with a micro-economic approach in order to achieve sustainability are already the first success stories. It clearly requires a lot of patience and time, training, and discussions with the local people. There needs to be a rethink, so that they can free themselves from the cycle of poverty with our assistance. 
Documents
Project Leader
My name is Claudia Doron, I grew up in the eastern part of Switzerland and live now with my family in the Rhine Valley, Switzerland. I have extensive international Management expertise acquired in Europe, the Middle East and North America, including Project management, consulting, training and development in the Hospitality Industry. In addition to my Bachelor Degree in Business Administration, I am a licensed and certi ed Coach ECA/POY & Hospitality Trainer and was teaching intercultural Competence to HR Management students at a professional school in Buchs. Since 2006 I am self-employed as a Relocation Manager and created the non-pro t organisation River of Hope in 2010 with a project in DR Congo, where we built a centre outside Kinshasa. We activate the economy in a village in poverty with a micro-economic approach. I received 2 awards: The 3rd Integration-Price "golden Enzian" in 2010 for my work in the Rhine Valley and the "Trophée des Femmes" from Yves Rocher in 2016, for my project in Congo. 
Languages: German, English, French
---
News Jan 2019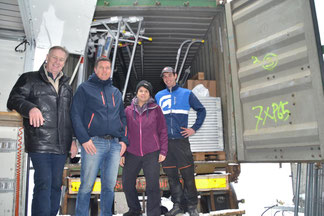 The 4th Container Challenge 
Member Project A River of Hope by Claudia Doron
4th Container Challenge with snow fall and -2 degrees
How you fit 4 "Junior" goals, 16 Spints, 4 palettes of Solar panels, 60 chairs and lot of sports material and x- boxes of shoes, cloth, office material in a 20'Container? 
1. You need an amazing and motivated team! 
2. Great example: the power of diversity & inclusion
3. The leader who know everyone & the content
4. The Motivators and positive thinkers who cheer up
5. The Packer with logistic experience
6. The Strong ones who follow instructions
7. The Helpers who are here and everywhere
8. And the cook who is organising a nice meal to celebrate the great effort and the fact that all went in!!!!
Thank you all for your help and to all the donations a huge thank you!!!
---
News Oct 2018
My name is Claudia Doron, member of BPW Rheintal, Switzerland and founder and project manager of River of Hope. Me and my team are active since 2010 outside Kinshasa in DR Congo, where we build the Campus Tala Mosika, an infrastructure for an entire region. In order to stimulate the local economy with a micro-economic approach and to achieve sustainability we needed to take many points into consideration (poverty, hunger, health, education, gender equality, clean water, renewable energy, economic growth, infrastructure, etc.) In order to implement a holistic approach, we have also analysed what the 17 UN Sustainable Development Goals from the Agenda 2030 mean to us. We presently identified 15 out of 17 goals that are applicable to us, and that are being adapted on an ongoing basis.
You wish to know more, support the vulnerable women and their families or simply here more about it? PN me! Happy to share and connect! https://www.ariverofhope.org/agenda-2030/