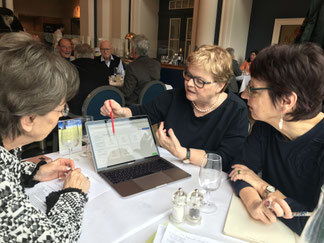 The international Vice President Catherine Bosshart met the PILOT Team members, Antoinette Rüegg, PILOT Chair, Daniela Rigassi, PILOT Administrator, and Ursula Schmid, PILOT Webmaster, in Zurich.
The registration for Club- and Federation PROJECTS is available on our website www.bpw-international.org in
Spanish
French
Italian (asap)
Portuguese
and German
Showing the Projects of our Clubs and Federations
makes the BPW performances visible
allows synergies and cooperation
are necessary to keep e.g. the BPW accreditation at different UN Agencies.
The 3 PILOT tools
Club & Federation Projects
Member Projects
Experts
support the Sustainable Development of BPW, a main topic at the next Leaders' Summit in New York.
Sustainable Development, a focus of our International Theme, is also imperative for our organization BPW.
Therefore a BLOG
Sustainable Development of BPW or
1930 – 2018 – 2030: Future of BPW? 
will be launched shortly before the Leaders' Summit in March.
Antoinette Rüegg, Past President BPW International
Zurich, February 9, 2018