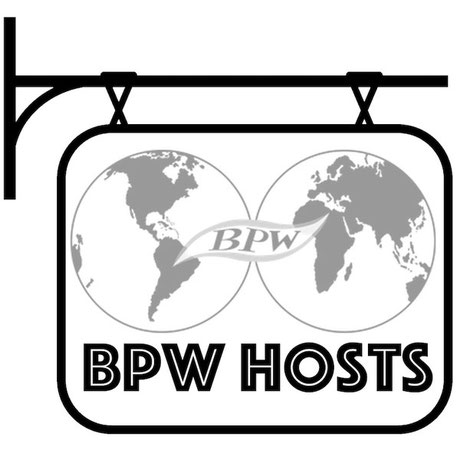 BPW Hosts
Project Leader 
Schmid, Ursula - Switzerland
UN SDG
8 Decent Work and Economic Growth
17 Partnerships for the Goals
BPW Topics
1 BPW Membership, BPW Organizational Development, - Strategies, - PR,
2 Communication, Media,
4 Economy, Business, Finances, Trade, Employment
Project
BPW Members worldwide who are owners or tenants of hotels, guesthouses, holiday apartments, restaurants, or agencies (owners or tenants only, who are working there themselves) publish their offer with a short description, photos, and links on a new website (www.bpwhosts.org). This website shows to all BPW members where they can find a lodging within their BPW network for a short or longer stay, on a journey or for holidays. No direct booking or reservation, just help-yourself-information.
The publication is free, but advertising/sponsoring is very welcome to help cover the expenses of the website.
As BPW Member and Host please contact www.bpwhosts.org and register your business! 
Documents
Website / Social Media
Project Leader
Ursula Schmid is a Secondary School Teacher phil. I, i.e. a teacher for German, English and French for 10 to 16 years old students. Later she worked for 25 years as office manager in her husband's Legal Office in Davos.
In the dim and distant computer past of the last century she acquired a taste for Apple – incurably. First steps with online tools for websites with Typo3, diploma. Since then in search of suitable online web tools for normal use. Aim: Convincing, attractive and efficient websites for small companies, affordable and always up-to-date thanks to easy CMS. Autodidactic.
With love for literature and communication, for classical music and aesthetics, for computer and internet, for women's politics and networking, for convincing arguments and marketing.
President of BPW Club Davos Klosters from 2009 to 2013. BPW Switzerland task force BPW Mentoring 2015-2019, BPW Switzerland task force BPW Website/SocialMedia 2017-2018.
Webmaster for BPW PILOT www.bpw-projects.org and www.bpw-un.org BPW International Webmaster 2021-2024.
Married; mother of a son and a daughter and grandmother of four grandchildren.