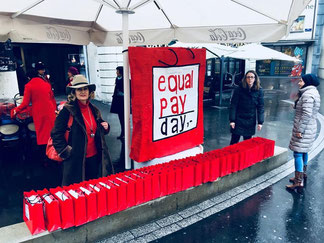 A huge shopping bag, bright red, soft and flexible, with a big writable area for messages of solidarity! This creation was presented in Lausanne last week by BPW Alexia Weill and members of BPW Club Lausanne.
With this work of art Alexia Weill, BPW Expert for Art and Sculpture within the BPW Project Pool, has created a sculpture in view of the near 24th of February, the 10th anniversary of the Equal Pay Day in Switzerland. 
Alexia and her BPW colleagues demonstrated their engagement for equal salary. And they brought red life to Place Pépinet in Lausanne where the 10th anniversary of Equal Pay Day will soon be held.