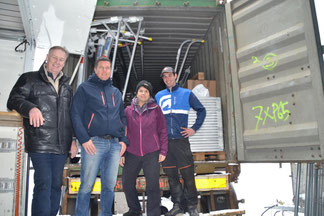 The 4th Container Challenge 
Member Project A River of Hope by Claudia Doron
4th Container Challenge with snow fall and -2 degrees
How you fit 4 "Junior" goals, 16 Spints, 4 palettes of Solar panels, 60 chairs and lot of sports material and x- boxes of shoes, cloth, office material in a 20'Container? 
1. You need an amazing and motivated team! 
2. Great example: the power of diversity & inclusion
3. The leader who know everyone & the content
4. The Motivators and positive thinkers who cheer up
5. The Packer with logistic experience
6. The Strong ones who follow instructions
7. The Helpers who are here and everywhere
8. And the cook who is organising a nice meal to celebrate the great effort and the fact that all went in!!!!
Thank you all for your help and to all the donations a huge thank you!!!